Planning for a party in Chennai for kids' birthdays has become a big deal these days. Right from deciding a theme, the party halls, the party favours, the menu, and the guest list, birthday parties require a lot of planning. Themed birthday décor, colourful balloons, attractive birthday props all add the fun element to the party. But what's in it for the guests, especially kids? How about some delectable food stations to rev up the party spirit? Check out how food stations can make your guests go WOW.
Trending Food Station Ideas In Party Halls
Popcorn Stations – Simple yet so much fun, who wouldn't like the popping of corn? A popcorn station is sure to engage kids of all age groups. What's more? Add in some flavours and let the guests make their own flavoured popcorns.
Candy Stations – Candy stations add colour to your parties. Boys or girls, tastefully displayed candies can be an instant hit with kids. Make it more exciting, by adding different flavours, shapes, and sizes and find your guests literally drop their jaws in awe.
Doughnut Walls – People going nuts over doughnuts is not a mere exaggeration. Don't we all love those cute sprinkled delights? These are popular with kids and adults alike. Uniquely flavoured doughnuts, dipped in dark or white chocolate sauces with custom toppings can make your little guests return for more.
Waffle Corner – Waffles are the most convenient choice when it comes to healthy, yet tasty food options. They are easy to put together and can be a filling snack. Create a DIY waffle corner, where guests can whiff up the ingredients of their choice to create a waffle to their liking. Spoil them with a choice of toppings and watch your guests rave about the experience.
Vegetable Shooters – No more hunting around the salad bar looking for veggies and dips. Line up different vegetables with their dips in individual cups, and let the guests grab these healthy shooters and continue making memorable conversations. This will be a welcome idea for those that hate waiting in a line to the salad table.
Dessert Bar – Food art can be mesmerizing. And when it comes to art with desserts, guests may find it heart-breaking to disturb the setting yet find them so irresistible to indulge with.
Veggie Garden Stop – Create a 'build your own' salad stop. You may style the counter like a vegetable garden and make your guests choose from the variety of vegetables to make their kind of salads. This set up can accommodate larger groups too.
Also Read: Wedding Hall Decorations In Vogue
French Fry Shooters – A kid-friendly item that excites everyone at the very mention of it. Place them in handy cones or glasses with ketchup and spice up the crowd favourite.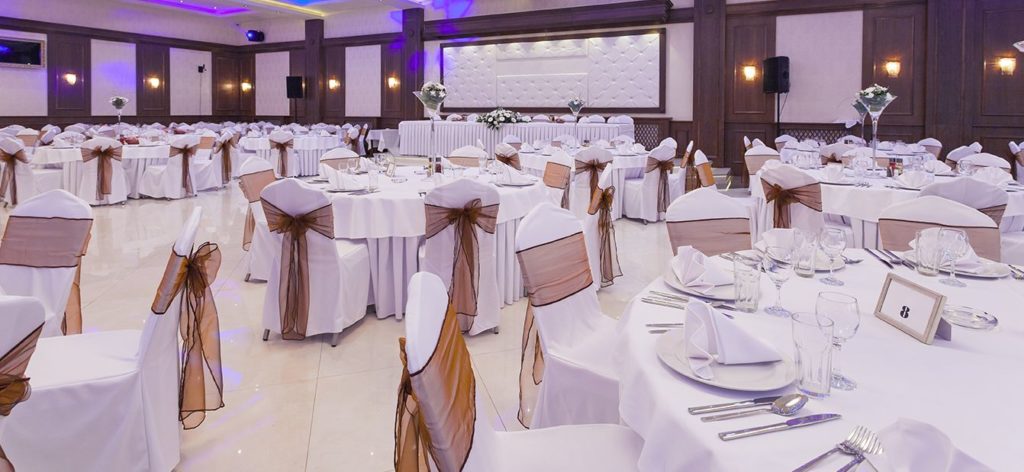 Nacho Bar – Bring in some diversity to your food stations with food that can be a snack or a tummy filler. Spread out a variety of tortilla chips in different flavours and colours. Notice how your guests will keep munching them on and on, and won't just stop with one.
Candle-lit Grazing Table – Offer a buffet of different snacks and breads when you want to keep it light. The candles and the candle bars can add more grandeur to the event. Make lighting choices matching the theme, and you will wonder how a simple element can amplify the mood and tone of the event. Choosing party halls in Chennai with the perfect lighting and space can make this idea a sure winner.
LED Fruit Tree – Turn your fruit station into an LED-lit fruit tree. The set up showcases the variety of fruits in the offering, and the LED lighting makes it more inviting and visually appealing.
Crepe Station – This can satisfy the taste buds of both the health-conscious guests and those with a sweet tooth. Offer a choice of chocolate, fruits, nuts and sprinkle toppings and fillings and let the guests turn master chefs and create their food to their liking.
Sandwich Stations – Create cute bite-sized sandwiches with kid friendly fillers like peanut butter, fresh fruits, cheese, and raisins. You are sure to be blessed by those anxious moms lurking around in search of finger foods for their restless toddlers.
Cookie and Cake Pops – Add this to your food stations, and you can hear squeals of laughter among the little ones. They are cute, kid-friendly and are simple to assemble. Get pops that match your theme and liven up the tone of the party.
What Makes Food Stations In Banquet Halls So Popular?
So, how do you fancy these ideas? These 'funtastic' food stations with awe-inspiring food presentations offer an enchanting experience, can add an element of surprise to your guests and can be an excellent photo opportunity. It can be a great networking option, as guests move around catching up on each other over a plate of their favourite foods.
Is your kid's birthday around the corner? Plan the birthday party in Chennai with these delicious ideas at Chennai Convention Centre -party halls/banquet halls and make the event more memorable with family and friends. Get in touch with us today!