The scenario has become a common one; boy meets girl or vice versa, they fall in love and they plan to get married. What's the twist, you might ask. The interesting thing here is that they are both from culturally diverse backgrounds! Voila! And there's the setting for a multicultural or cross-culture wedding!
We are not going to make the mundane statement that weddings are tough to plan. But we have to underline the fact that a planning multicultural wedding calls for some proper groundwork. After all, it isn't just the sealing of two hearts in the bonds of marriage. It is a culmination of two vastly different cultures and values.
Planning a fusion wedding calls for the perfect balance of understanding between two families. Right from choosing the date, picking the best wedding halls, customizing the menu and shopping for wedding attire, every event is a harmonious blend of happiness and excitement.
But the real deal is all about how your plans make both cultures feel equally appreciated. We give you expert tips to plan the perfect multicultural wedding that makes everyone happy.
Devise The Perfect Multicultural Wedding
#1. Pick Your Venue Choice From The List Of Best Wedding Halls
Every wedding plan commences with choosing the date which is closely followed by hunting for the perfect venue. It is no different with multicultural weddings. Pick a venue that is convenient and comfortable in terms of accommodation, proximity to airports, amenities, car parking space, and catering services.
Chennai Convention Centre is one of the best wedding halls in Chennai that enjoys a high reputation of being a unique venue that accommodates out-of-the-box wedding plans. Our spacious banquet halls and sprawling lawn area are apt for fusion weddings. Make your guests feel at home in our spacious, air-conditioned halls and guest rooms. Optimize the use of our first-class amenities to have a fusion wedding that remains etched in your memory.
#2. Set New Trends With Fusion Decor
This is where you and your new family members get to showcase your traditions through your creative thinking! Make the most of the wedding opportunity to bring out the best of both cultures through your wedding venue decor. Use symbols and colours of importance to both families. If you are going for a theme-based wedding, a fusion wedding is the best opportunity to blend ideas and wow the guests with one-of-a-kind decor.
#3. Explore New Cuisine With A Multicultural Menu
The wedding feast is something every single guest will be looking forward to. With a multicultural wedding, the possibilities are unlimited. Make food a big celebration of both cultures. Create a menu that has authentic, traditional dishes in equal numbers to show mutual respect for both cultures. A word to the wise – always check with your guests about food allergies and comfort with spice levels and ensure your caterers are well-informed about every single detail.
#4. Get Inventive With Your Wedding Trousseau
Unlike normal weddings, couples from diverse cultures get the unique opportunity to unite in matrimony in two or more traditional attires. It is also okay to add your own modern twist to the traditional wedding clothes and incorporate innovative ways to blend both cultures. For example, a bride who is embracing Indian traditions for the first time might opt to wear a saree for the wedding, but opt for the latest western evening gown for her reception.
#5. Keep Your Guests Well-Informed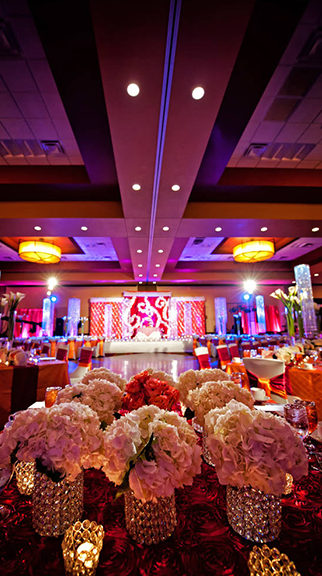 As a good host, it is your responsibility to ensure your guests are very much a part of the cultural extravaganza as your family members are. To ensure this, create a customized manual explaining each ritual and its significance in detail. Make smart use of the manual to include contact details, the address of the venue and the accommodation you have arranged for them.
There's more! You can include a detailed explanation of the food and drinks that are on the menu.
#6. Enthral Your Guests With Traditional Dance And Music
While a sangeet or a cocktail party have an undeniable glamour quotient, you can up the ante with a specially-arranged traditional dance performance – one that none of the guests has ever seen. Music is another entity that needs careful planning. Create a playlist that includes traditional songs, and other timeless favourites from both sides. Encourage your guests to dance to some of the traditional music. There's no better way to foster a harmonious relationship between the two family members.
#7. Personalize Every Little Aspect
Personalization is the new norm where you get to stamp your names and styles in numerous wedding-related aspects. You can create a signature wedding with personalized intricate details in a multicultural wedding and make the entire event extra special. There is so much scope for personalization- right from the invitation, the menu, the decor, and even your wedding attire! Let's not forget that you can also customize the ceremony itself to as per the traditions of both families.
Planning A Multicultural Wedding: How To Make It Look Like A Walk In The Park!
Blending two different cultures in holy matrimony is no mean feat. More often than not, there is a lot of apprehension in planning and executing the entire process without a hitch. Here's what you should consider before taking on the responsibility of planning a multicultural wedding:
List out the customs and wedding rites from both cultures and include them seamlessly into the process.
Expenditure is a big factor. Look out for deals and packages from wedding planners, wedding venues, caterers, etc. and make the most of it.
Plan the logistics and accommodation well ahead of the ceremony.
Engage both cultures in every little aspect to help families understand more about each other.
Create an app or an email id exclusively for the wedding and keep your guests updated about any changes in the plan.
The pressure can be intense. But you can create a thousand memories with this once-in-a-lifetime event!