A wedding venue plays an important role during the reception and wedding formalities. It is necessary to select a wedding according to the number of guests. If you are planning to host a grand or luxurious wedding party, then the wedding venue should be large in size with exclusive interior decorations. There are several features that made a wedding venue a luxurious one. It will not look like a normal wedding venue. The cost will also be expensive because of the exclusive features present in the wedding hall. Specialty decorations, formal wear, and a longer guest list are the main things that couples decide when they are planning a wedding in luxurious banquet halls.
There are numerous ways to make the venue luxurious and exclusive. When it comes to making it luxurious, the groom and the bride should take some effort to make it look more than usual. Here listing some best ways to make the wedding hall a luxurious one:
How to transform your regular banquet halls into luxurious wedding reception venues in Chennai?
Add Elegance & Style to your party at Chennai Convention Centre. The best marriage hall in Chennai with 500 to 1000 seater with air-conditioned rooms.
Prime Location
Spacious Outdoor Lawn
Car Parking
Power backup
Banquet hall
AC Guest Rooms
So, we have embarked to let you know why corporate events and venues for such events are actually needed in Chennai. Do take a look.
Concentrate on the details: When you visit luxury wedding venues, you would find a lot of exclusive things like engraved wine glasses, fine China and a beautiful bouquet of flowers in the place of food and venue, and much more. The perfection seen in luxury wedding halls is immaculate. You could find something new and trendy in all small areas and even in small things. If the management has transformed into a luxury one, they would have heavily invested to make it look really luxurious and elegant. You would sign up the contract within the first look. They would focus on various small and minute details from opulent decorations to lavish chairs.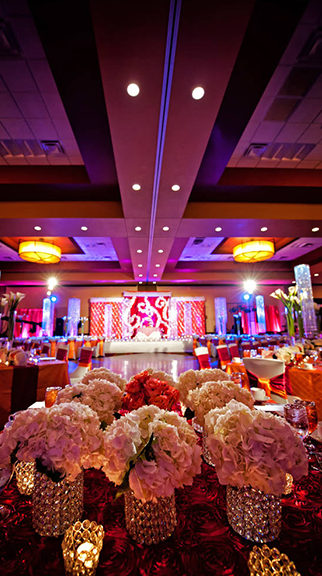 The theme of the wedding: When you have been to an average wedding, you would find certain things going out of theme. But when it comes to a luxurious wedding, you can find each and everything corresponding to the theme. The couples should take a lot of effort to stick to the theme even on dance floors, with napkins, wine, and invitations. They could express their personal touches in these small things and make the wedding a luxurious kind.
Table centerpieces: One of the most important elements that catch a lot of attraction is the table centerpiece. It plays a great role in table decoration. When you visit a normal wedding, you would see a flower vase with some artificial or natural flowers. But when it comes to hosting a luxury wedding party, there should be a grand flower vase with creative flower decoration. The entire table should be created with beautiful columns of flowers, candles, and sculptures.
Excessive favors: It means thank you or return gifts to give to the gifts. It is usual to give return gifts to the guests who have attended the wedding. It can be chocolates, cards, or small trinkets. When it comes to planning 'thank you' gifts for your gifts, you can top-end or expensive giveaways, vintage gifts, and a bag full of branded goods. It will surely give a wow feeling to the guests who have attended your wedding.
Wedding displays: If you have planned for video and photo shoots, it is mandatory to set up wedding displays. It will add a trace of decadence and class to your wedding venue. Moreover, your wedding venue would also have a strong impression of the guest's mind. Some luxurious displays that can be included are statues, large chandeliers, and also customized backdrops. If you do not have much idea, you can also research on the internet. You will get a lot of options and also ways to set up in an easy manner.
Elegant venue: It is sure you will be having a long list of guests to welcome. When it comes to a luxury wedding, you need to invest in an expensive and large venue. There are several wedding halls that come with a tagline luxury wedding halls. You need to search and choose the best halls among various options. A luxury wedding should offer a complete luxury experience along with drapery, mood lighting, and catering.
Apart from involving money, the couples should put extra effort to make it a luxurious one. It requires meticulous planning and execution. The design and interiors should go well with the wedding category.